Thank you,

Joel and Lauren Rutkowski,

the directors and owners of

Indian Head Camp

, who have generously sponsored ten of our young writers for a full sleepaway camp experience.

We are thrilled to be bringing Writopia's 2014 Sleepaway Camp to their beautiful site in Honesdale Pennsylvania. We are looking forward to this exciting new partnership!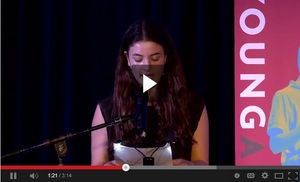 Congratulations to Writopia Los Angeles'
Isabel DeBre, the first Writopian ever to be named a YoungArts Scholar! In January, Isabel joined 170 of the nation's top young literary, performing, visual, and design artists for a week of showcases and readings in Miami.
Congratulations to our writers on these accomplishments! Thank youm Abby Coleman, Writopia's Submissions Coordinator, for reasearching opportunities for young writers and guiding our young writers through the submissions process.
Kai Williams' (age 16) short story, "Nat and Sophia," will be featured in the Scholastic Awards' 2014 Best Teen Writing anthology.

Annalee Tai's (age 16) poem, "Detox," was selected for publication in The Apprentice Writer and it is due out in August 2014.

Raya Kenney (age 12) was a finalist in the 31st Larry Neal Writers Award Competition for her piece Missing Smile.

Mrinalini Wadhwa (age 12) was a winner of the Creative Communication Poetry Contest for her poem "Time."

Juliana Yu (age 11) was the elementary school winner in NASA's Spring 2014 Cassini Scientist for a Day Essay Contest. Juliana Yu was also the 5th and 6th Grade Prose Winner in the New York Society Young Writers Award for her story Salmini's Story.

Sophie Nadel (age 13) was the winner of the 34th Annual Friends of the Chappaqua Library Young Writers Contest for her story Mittens.

Christina Poulin was a winner of The Washington Posts' Kid's Post Competition for her poem "Internal Zoo."

Jessica Rosenblatt's (age 12) piece, "The Search for Excitement," was published in Creative Kids Magazine.

Clea Woodbury (age 17) won Honorable Mention in the Leonard Milberg '53 Secondary School Poetry Contest for her poem "Confirmation."

Lea Pichardo (age 11) was the recipient of the 2013 Outstanding Student Author Award (Celebrate New Jersey) for her piece, "Mighty Mike is Back!" Also, Lea Pichardo's story, "The Hero," was published in The Oakland Journal.

Charlotte Rauner (age 17) was the National Winner/Best of Issue Nominee for the American High School Poets "Just Poetry" at The National Poetry Quarterly.

Yuna Shprecher (age 11) won the Award of Excellence for her story The Voice of North in the National PTA Reflections Ar

t Program.

Matthew Li (age 8) won 1st Place in the WETA KIDS Writers Contest.
We are delighted to announce that the Pinkerton Foundation has granted Writopia Lab $100,000 for our new program called "Write to Recognition."
Write to Recognition will allow for our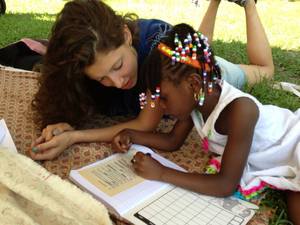 scholarship writers from low literacy backgrounds in need of extra writing support to benefit from extra private sessions throughout the year. At the end of each semester, Abby Coleman will help each and every one of these writers to submit to publications and competitons. All Writopia writers have the Write to Recognition!
In addition to our sliding scale fees, 18% of writers who participated in Writopia workshops attended using full scholarships.
Support from our wonderful community allows all of these programs to develop. If you would like to get involved, please contact us!
Sarah Bernstein has an upcoming production of The Narrow Gate, at the Source Festival in DC this month.
Abby Coleman, Molly Haas-Hooven, Alex Henderson, Khadijah Johnson, and Dan Kitrosser all

completed their MFAs this semester!

Jessica Dall's new novel The Copper Witch was released in March.
Michelle Meyers' play, The Last Temptation of Paula Deen, will be featured in the Hollywood Fringe Festival this June.
Kara Ayn Napolitano's play, Leah in Vegas, will be featured in the 2014 NYC Fringe Festival.
Kira Piekoff

's second novel

No Time to Die

will be relased on September 2nd.

Adrienne Scherger's short story is going to be featured in the Fall '14 issue of Brain, Child magazine.
Michelle Schusterman

's new novel

Sleepovers, Solos, and Sheetmusic

was released on May 15.

Courtney Sheinmel's new book, Stella Batts, Something Blue, was released in April. The next book in the series None of Your Beeswax will be released next April.

Taylor Sykes was a Finalist for the Brooklyn Film and Arts Non-Fiction Contest.
Brigit Young has an upcoming piece in The Uncommon.
New Program: Writopia's essay writing program, developed by Danielle Sheeler, has flourished into a robust, impactful program. In a recent survey (to be published shortly), parents of Writopia's essay writers overwhelmingly reported that the program positively impacted their children's academic success.
New Program: Writopia's Language Play program, developed by Writopia's core staff, has taken off! Our very own Yael Schick and Eunju Namkung ran Montclare's Children's School first filmmaking class five year olds. Writopia instructors lead over a dozen workshops for children ages 2-5 throughout the year across the country.
New Management Initiative: This May, Rebecca Wallace-Segall attended Harvard Business School's week-long seminar for Nonprofit Executives called "Performance Measurement of Nonprofit Organizations." Writopia has begun the process of measuring the impact of our programs on our youths and on our schools. We will begin publishing our findings soon. Please feel free to contact us with any questions or suggestions.
Thank you to all Writopians for inspiring us with y
our writing every day. And thank you parents, guardians, and community supporters for reading and celebrating our news with us, and for helping us blossom into the most prolific and socioeconomically diverse creative writing youth community in our cities
—
and the most exciting writing program in the country!
Read more!